Citrus Chocolate Ravioli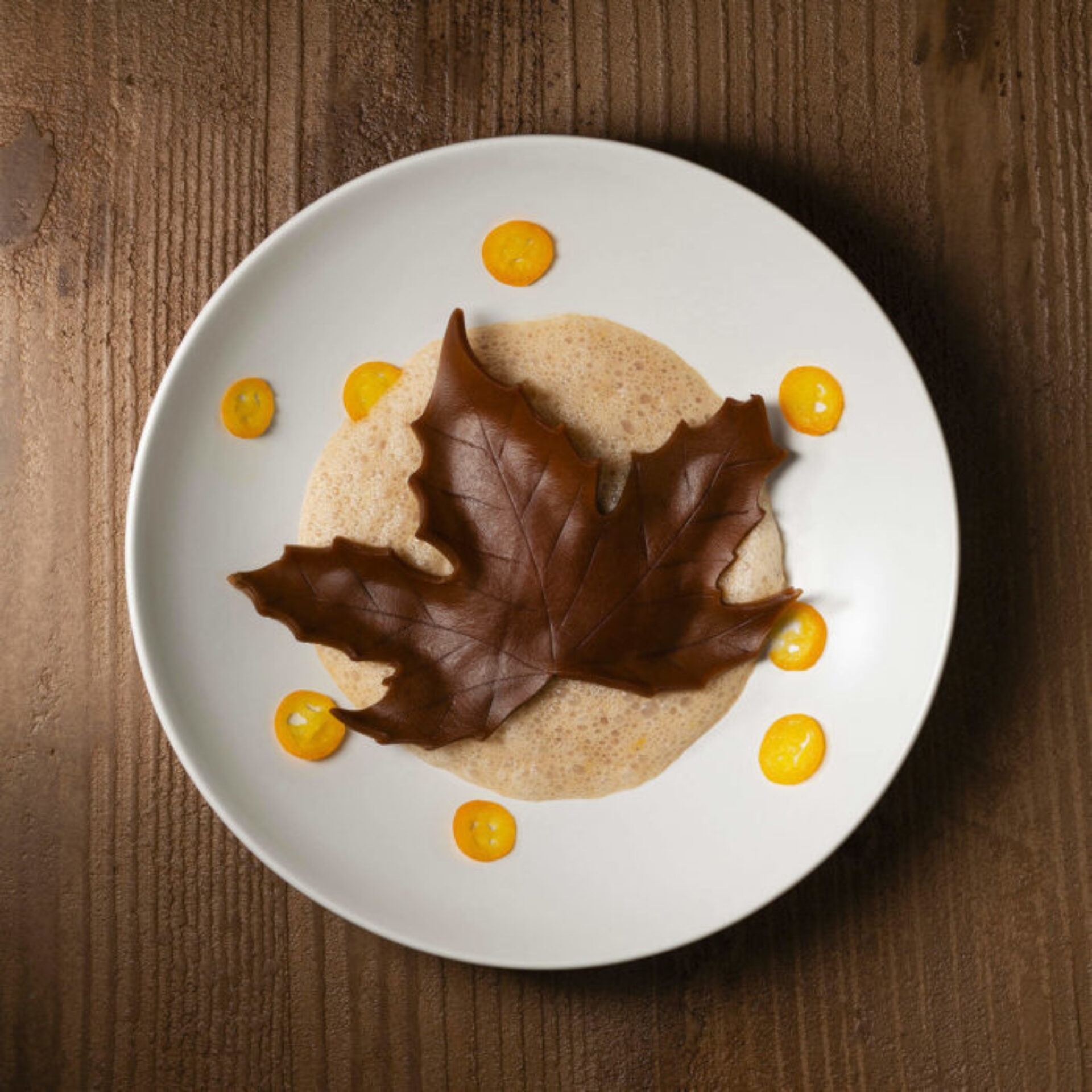 Recipe by François Galtier
I. COMPOSITION
Sponge
Ravioli Filling
Chocolate Ravioli Dough
Syrup
Orange Foam
II. SPONGE
(for 1 plate 40x60cm)
225 g Eggs
6 g Orange Juice
180 g Sugar
170 g T55 Flour
7 g Baking Powder
4 g Orange Zests
160 g Hot Melted Butter
PROCESS
Mix gently the eggs with the juice and the sugar to melt the sugar.
Add the powders, mix well and finish the mixing with hot liquid butter.
Spread out 750g per plate 40x60cm and bake around 6 min at 210°C in a ventilated oven.
Cut small triangles when it's cold enough.
III. RAVIOLI FILLING
20 g Corn Starch
25 g Lemon Juice
150 g Orange Juice
50 g Grapefruit Juice
3 g Orange Zests
PROCESS
Mix the corn starch with the lemon juice.
Boil the rest of the juices with the zests and add half of this hot juice on the top of the first preparation, then put everything back to the saucepan to bring it to the boil again.
Take it out of the fire, mix it with chocolate and let it cool down and then put in a refrigerator.
Whisk the cream before using to get a smooth texture.
IV. CHOCOLATE RAVIOLI DOUGH
150 g Orange Juice
400 g T55 Flour
5 g Orange Zests
PROCESS
Warm up the juice and pour on the chocolate to make a ganache.
Mix all the ingredients together with this ganache in a Thermomix.
Wrap and let the dough rest before laminating.
V. SYRUP
1000 g Water
100 g Sugar
10 pcs Orange peel
5 pcs Cloves
2 pc Cinnamon stick
1 pc Vanilla Bean
PROCESS
Boil the syrup to cook the ravioli.
VI. ORANGE FOAM
100 g Fresh Cream 35%
400 g Orange Juice
5 g Egg White Powder (or Emulsifying Paste)
PROCESS
Warm up the cream and mix it with the chocolate to make a ganache.
Add the cold juice and the egg white powder or the emulsifier, then blend them to create the foam.
VII. MONTAGE
Roll out the ravioli dough and cut the leaf shape needed.
Brush some water on the borders, pipe the filling and close with another layer of ravioli dough.
Mark the leaf design on the surface with a knife.
Cook the ravioli for 2 min in boiling syrup.
Cut some thin slices of kumquats to decorate the dessert plate.
Display the triangle of sponge in the middle of the plate, place the foam around and the hot ravioli on the top of the sponge.