Millefeuille Minute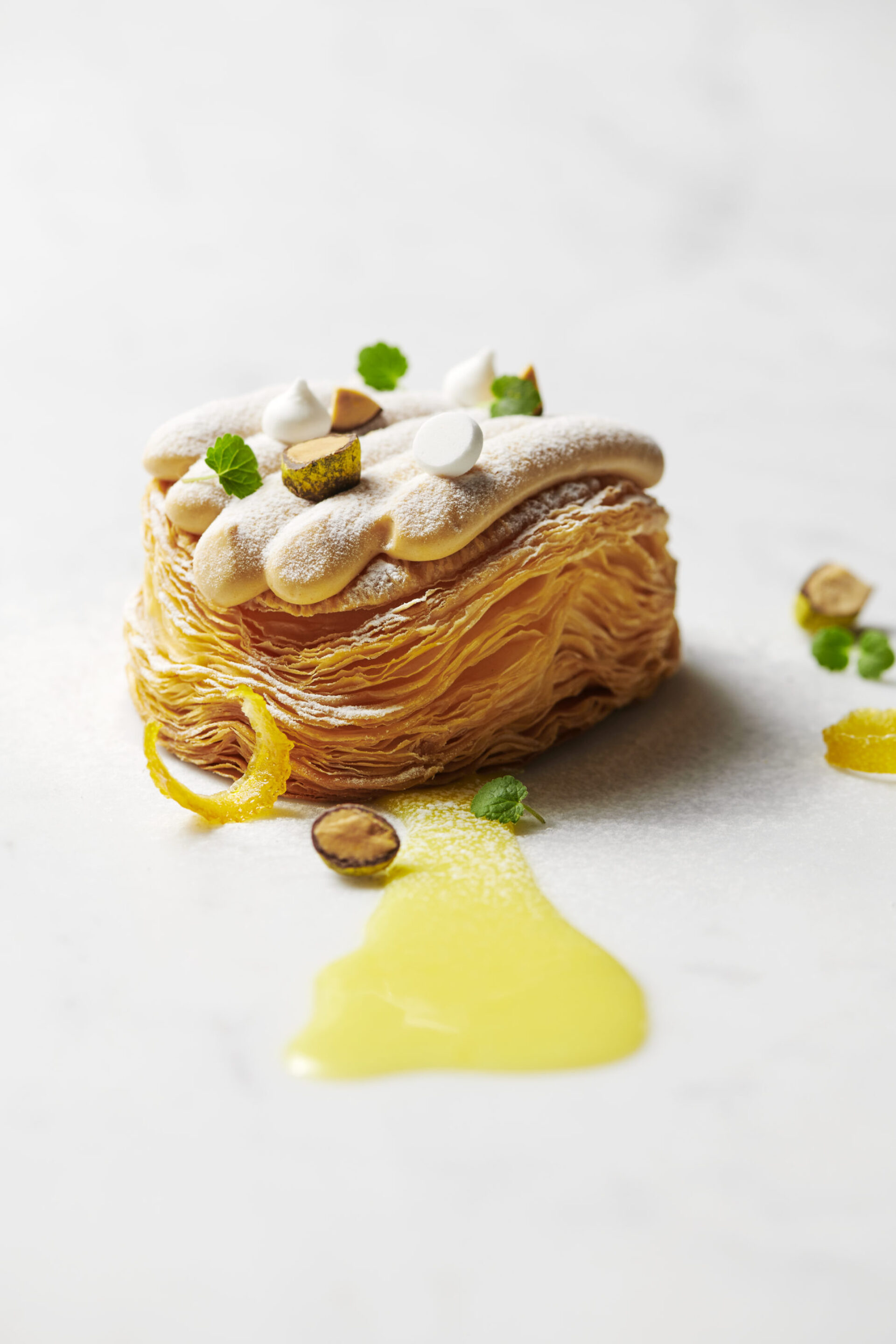 I. COMPOSITION
Puff pastry
Blondy custard cream
Yuzu chocolate sauce
Lemon almonds
II. PUFF PASTRY
1000 g Flour T55
40 g Sugar
20 g Salt
510 g Water
100 g Melted butter
800 g Laminated butter
PROCESS
Mix flour, sugar, salt and water together for 2 min in 1st speed, till obtain a roughly mixed dough, then add melted butter and mix 4 min at 2nd speed.
Roll out in square shape and wrap in cling film.
Put in fridge to let rest and cool down completely (2 h +/-).
Before incorporating the butter, make sure that both have the closest texture.
Start by a double fold, then a single fold.
Let rest an hour and give 2 others single folds.
Let rest for a night before using it.
Chef's Tip: When taking out of the fridge and before giving folds, if the dough is too cold, let it set outside for 20-30 min to soften the whole block and to avoid breaking in the butter layering.
Roll out to 4 mm, let rest in tray for an hour in the fridge and cut out the very cold dough in egg shapes of 8 x 11 cm with a sharp knife.
Dispose on trays and bake at 180 °C during 40 min.
III. BLONDY CUSTARD CREAM
1000 g Full fat milk
2.5 g Sea salt
1 g Vanilla bean
140 g Sugar
130 g Sweet condensed milk
100 g Corn starch
250 g Whipped cream 35%
PROCESS
Warm the milk with salt and vanilla to 60°C.
Meanwhile, make a dry dark brown caramel with the sugar and stop the cooking adding the sweet condensed milk and the warm milk.
Scale and complete the loss with milk.
Bring to 80°C, add delayed starch and bring to boil to set the custard.
Remove from the heat and add the white chocolate.
Mix well and unload on tray covered with cling film and cover the cream in contact, cool down quickly to 4°C.
Whip the 35% fresh cream to a firm texture and fold in the soften custard.
IV. YUZU CHOCOLATE SAUCE
200 g Yuzu puree
300 g Glucose
20 g Sugar
1.5 g Concentrate safflower lemon powder
30 g Gelatin mass (1/5)
4 g Lemon zest
PROCESS
Bring the mixed yuzu puree, glucose and sugar with the concentrate safflower lemon powder to 60°C, add the gelatin mass and pour on the chocolate and lemon zests.
Mix well and reserve.
V. LEMON ALMONDS
200 g Roasted almonds
1 g Concentrate safflower lemon powder
PROCESS
In a container, put the cold roasted almonds and add the equivalent of a soup spoon of tempered dark chocolate following the tempering curve 50-55/28-29/31-32°C .
Mix gently with a spatula till the chocolate set around the nuts.
Repeat this action several times till obtain a 3 mm layer around.
At the last covering, when the chocolate is just set, add the concentrate safflower lemon powder to cover the chocolate and give a yellow color with an acidulated touch. Let crystallize fully.
V. ASSEMBLY
On a plate, with a spoon, drop yuzu sauce, place on top a piece of puff pastry and pipe lines of the blondy custard cream using a 10 mm round nozzle on the surface. Sprinkle icing sugar, broken lemon almonds, fresh lemon cress and LEMAN meringue (57359) as decorations.