Prosperity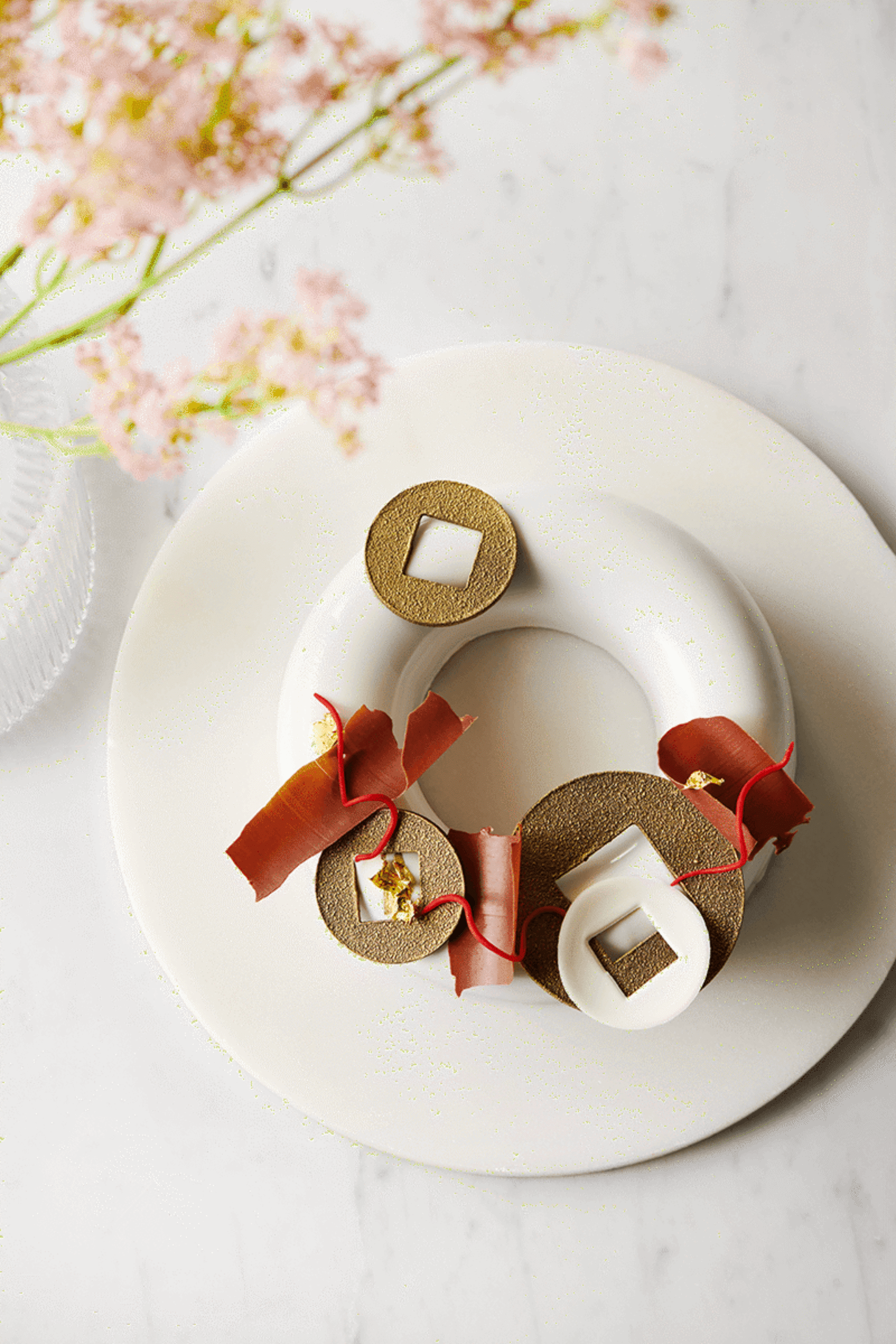 I. COMPOSITION
4 cakes Silikomart SAVARIN 180
Brownie biscuit
Soft caramel
Brownie mousse
White chocolate glaze
II. BROWNIE BISCUIT
375 g Whole eggs
400 g Brut cane sugar
2.5 g Sea salt 200 g Fresh cream 35%
375 g Butter
625 g Emotion 58 Belgian dark couverture chocolate
350 g Flour T55
20 g Baking powder
150 gRoasted hazelnut
PROCESS
Mix whole eggs with cane sugar and salt without incorporating air. Meanwhile, bring to 80°C fresh cream with butter and pour over the dark couverture chocolate to make a ganache. Add this to the whole eggs and add the sifted flour with the baking powder. Spread on baking tray with edge and sprinkle the roasted hazelnuts on top. Bake at 170°C during 20 min, close damper. Cool down and freeze to cut out rings of 14 cm diameter exterior and 9 cm diameter inside.
III. SOFT CARAMEL
240 g Glucose Syrup
300 g Sugar 180 g Sweet Condensed Milk
360 g Fresh Cream 35%
3 g Salt
2 pc Vanilla Bean
480 g Butter
PROCESS
Caramelize glucose with sugar. Stop the caramelization with condensed milk, then add cream, salt and vanilla seeds. Boil the preparation to evaporate some water until you get 950 g. It's easier to reduce more, scale and add the missing water to reach the good weight. Add butter and blend well. Let crystallize in the refrigerator.
IV. BROWNIE MOUSSE
120 g Full fat milk
10 g Gelatin mass (1/5)
50 g Brownie biscuit
500 g Whipped cream 35%
PROCESS
Bring the milk to 80°C, add the gelatin mass and the brownie then pour over the chocolate and mix correctly. At 35°C, fold in the whipped cream.
V. WHITE CHOCOLATE GLAZE
100 g Fresh Cream 35% Fat
15 g White Chocolate Color
70 g Sugar
410 g Glucose Syrup
180 g Gelatin Mass (1/5)
700 g Neutral mirror glaze
PROCESS
Boil cream, with white color, sugar, and glucose, and pour on the gelatin to melt it. Add chocolate, mix well to melt all the chocolate dots, and add the mirror glaze at the end. Blend the glaze, and use at 35/40°C.
ASSEMBLY
On frozen rings of brownie biscuits, pipe rings of crystalized caramel using a round nozzle of 15 mm. Pipe 200 g of brownie mousse in SAVARIN 180 Silikomart moulds and lining sides completely. Push inside the biscuit with caramel, smooth the surface and freeze. Glaze and decorate with gold chocolate coins, large chocolate shavings and a line of red CHOCODECOR.
A bit of history ;-)) : According to Chinese traditions, coins should be tied with a red thread, fire element. Indeed, if you want to link together a Feng Shui coin, or Chinese coin, you must use a red cord or thread to activate success and prosperity.