A table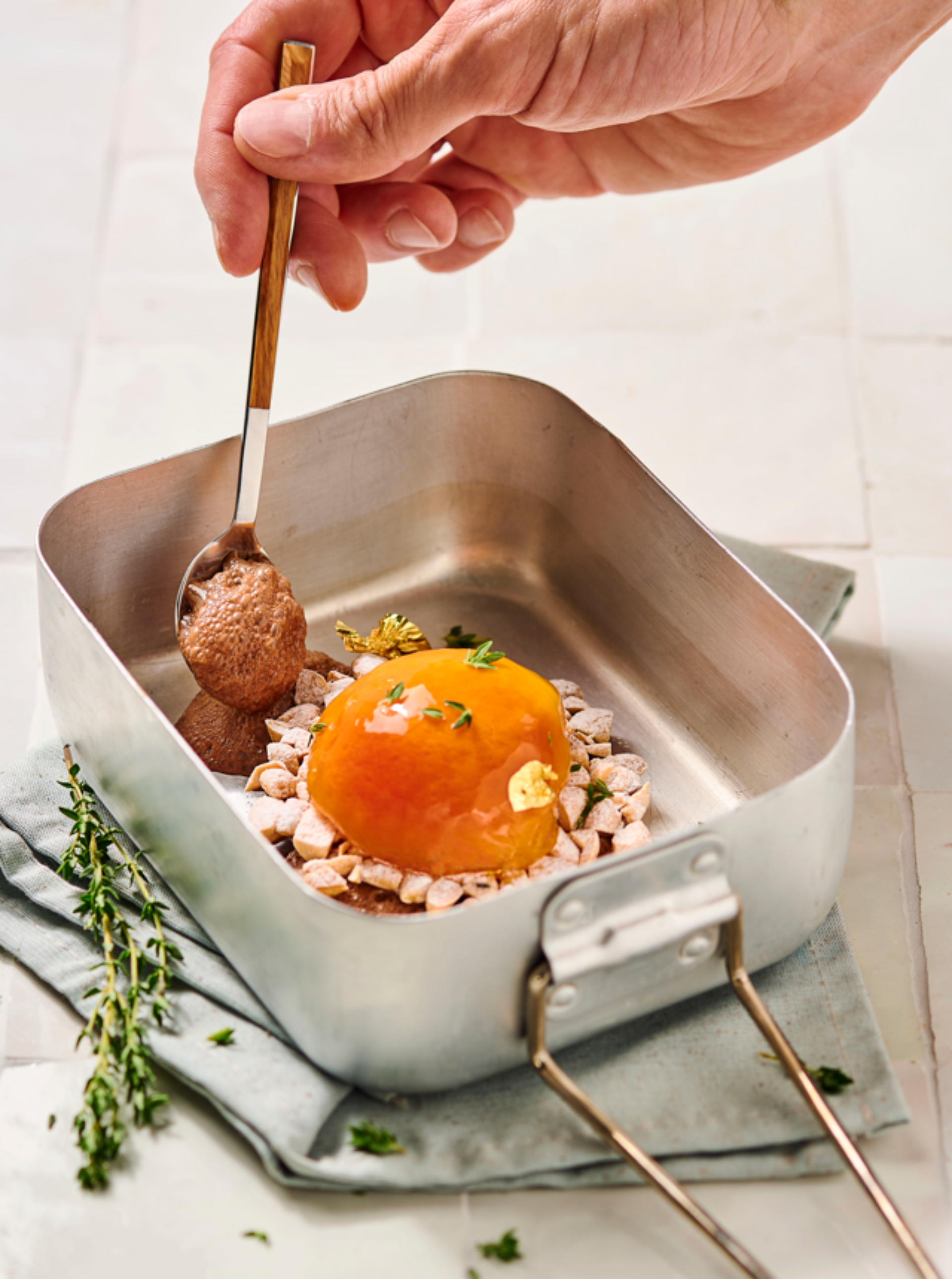 I. COMPOSITION
Foamy chocolate
Cocoa biscuit
Thyme creamy
Almond chocolate tile
Roasted peaches
II. FOAMY CHOCOLATE
300 g Water
3 g Orange peels
3 g Emulsifier in paste
PROCESS
Warm the water at 60°C and infuse the orange zests inside for 10 min.
Sift over the chocolate and the emulsifier, blend to get an emulsion, insist by incorporating as much air bubles as you can to create the foamy texture.
For an optimal foam texture, use between 30-40°C.
III. COCOA BISCUIT
For a tray of 40×60 cm
200 g Marzipan 50%
50 g Icing sugar
1 g Sea salt
70 g Whole eggs
140 g Egg yolks
210 g Egg whites
80 g Sugar
80 g Flour
70 g Melted butter
PROCESS
Warm the marzipan at 35 -40°C, add icing sugar with salt and soften it in the planetary mixer with the paddle.
Add gradually whole eggs and egg yolks till obtain a smooth texture.
Meanwhile, whip egg whites with sugar to a firm texture.
Fold in the first preparation, add the sifted flour with cocoa powder and add melted butter.
Spread on baking tray and bake in convection oven at 180°C during 10 min, close damper.
Cut out disc of 6 cm Ø.
IV. THYME CREAMY
100 g Full fat milk
3 g Fresh thyme sprig
23 g Gelatin mass (1/5)
200 g Liquid fresh cream 35%
PROCESS
Warm up milk around 60°C, and infuse the fresh thyme sprig inside for 10 minutes.
Warm up again at 80°C, add the gelatin mass and sift over the chocolate.
Add the liquid fresh cream, then mix with the hand blender to achieve the emulsion.
Reserve in the fridge to set.
V. ALMOND CHOCOLATE TILE
Q.S Roasted chopped almond
PROCESS
Temper the chocolate and spread thinly between 2 plastic sheets, cut out disc of 10 cm Ø and let set.
On a tray, spread a layer of chopped almonds and add chocolate discs on top.
Put in a switch off oven at 50°C, let melt on the almonds and take them out.
Let set quickly again in the fridge.
VI. ROASTED PEACHES
5 pieces Fresh yellow peaches
50 g Butter
100 g Fresh lemon juice
60 g Sugar
6 pieces Fresh thyme sprig
PROCESS
Boil water and put the whole peaches inside for 2 minutes.
Remove them and cool down under cold water.
Cut in the center and twist to separate in 2 halves, then peel off the skin.
In a cooking pan, dipose the halves peaches and cook in butter for 5 min, add the syrup of lemon juice / sugar and stir gently.
Add everything in an oven dish and bake at 220°C during 15 minutes.
Once out, cover with cling film and let cool down.
VII. ASSEMBLY
In an aluminium plate, in the center, add a disc of biscuit and pipe on top a layer of thyme creamy using a round nozzle N°10. Dispose gently the foamy chocolate around and dispose the almond chocolate tile on top of the creamy. Finish with a roasted half peach, sprinkled of fresh thyme and pieces of Leman gold leaves.