Christmas truffle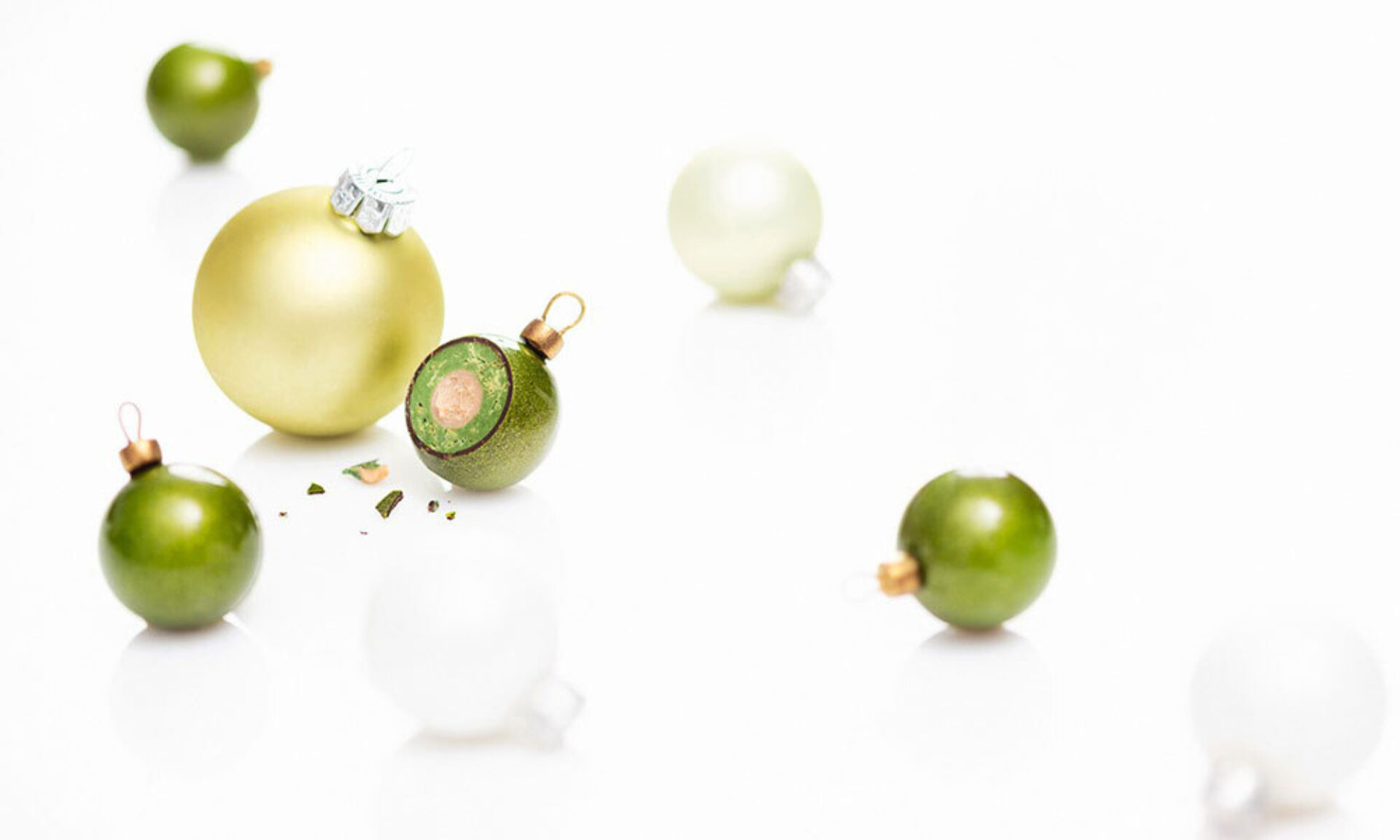 Recipe by François Galtier
I. COMPOSITION
Coloured Chocolate Shell
Lime Ganache
Matcha Tea Praliné
II. COLOURED CHOCOLATE SHELL
5 g green liposoluble food colouring
5 g yellow liposoluble food colouring
3 g silver powder
60 g Deodorized Cocoa Butter
PROCESS
Melt the first part of Deodorized Cocoa Butter at 50°C and blend with the colourings,
then add the glitter.
Leave to cool to 28°C and spray into two 3 cm diameter half-sphere
chocolate moulds, creating an homogenic layer on the surface.
Then, heat the second part of Deodorized Cocoa Butter to 60°C and pour onto
the white chocolate.
Mix and leave to cool to 28°C before again spraying an even layer onto
the coloured Deodorized Cocoa Butter and leaving to crystalize.
Temper the dark chocolate and fill the moulds, creating a black shell,
then again leave to crystalize.
III. LIME GANACHE
140 g lime juice
80 g glucose syrup
50 g Deodorized Cocoa Butter
4 g lime zest
450 g Obsession 30 Belgian white chocolate
182 g butter
PROCESS
Heat the lime juice, glucose and Deodorized Cocoa Butter to 65°C. Pour onto the lime zest,
chocolates and butter, then blend to a nice emulsion.
Spray a thin layer of Deodorized Cocoa Butter at 28°C into a 2 cm half-sphere chocolate
mould and leave to crystalize.
Fill the mould with the ganache at 30°C.
Leave to crystalize for about 1 day before unmoulding the ganache.
IV. MATCHA TEA PRALINÉ
235 g white almond
180 g icing sugar
82 g Deodorized Cocoa Butter
30 g matcha tea powder
50 g Crispy Crunchies
PROCESS
Blend the white almonds and the icing sugar until the mix has become completely
fluid and homogeneous.
Mix with the Deodorized Cocoa Butter and add the matcha tea.
When the praliné is at 30°C, add the Crispy Crunchies.
V. MONTAGE
Half-fill the chocolate shells with the matcha tea praliné.
Push the lime ganache into the praliné and leave to crystallize partially before
removing
the remaining praliné with a triangle knife.
Leave to crystalize completely, then use a heater to warm up both moulds just
enough to stick them together.
Leave to crystallize before unmoulding.
Decorate the truffles with a modelling chocolate element brushed in gold.