Eclat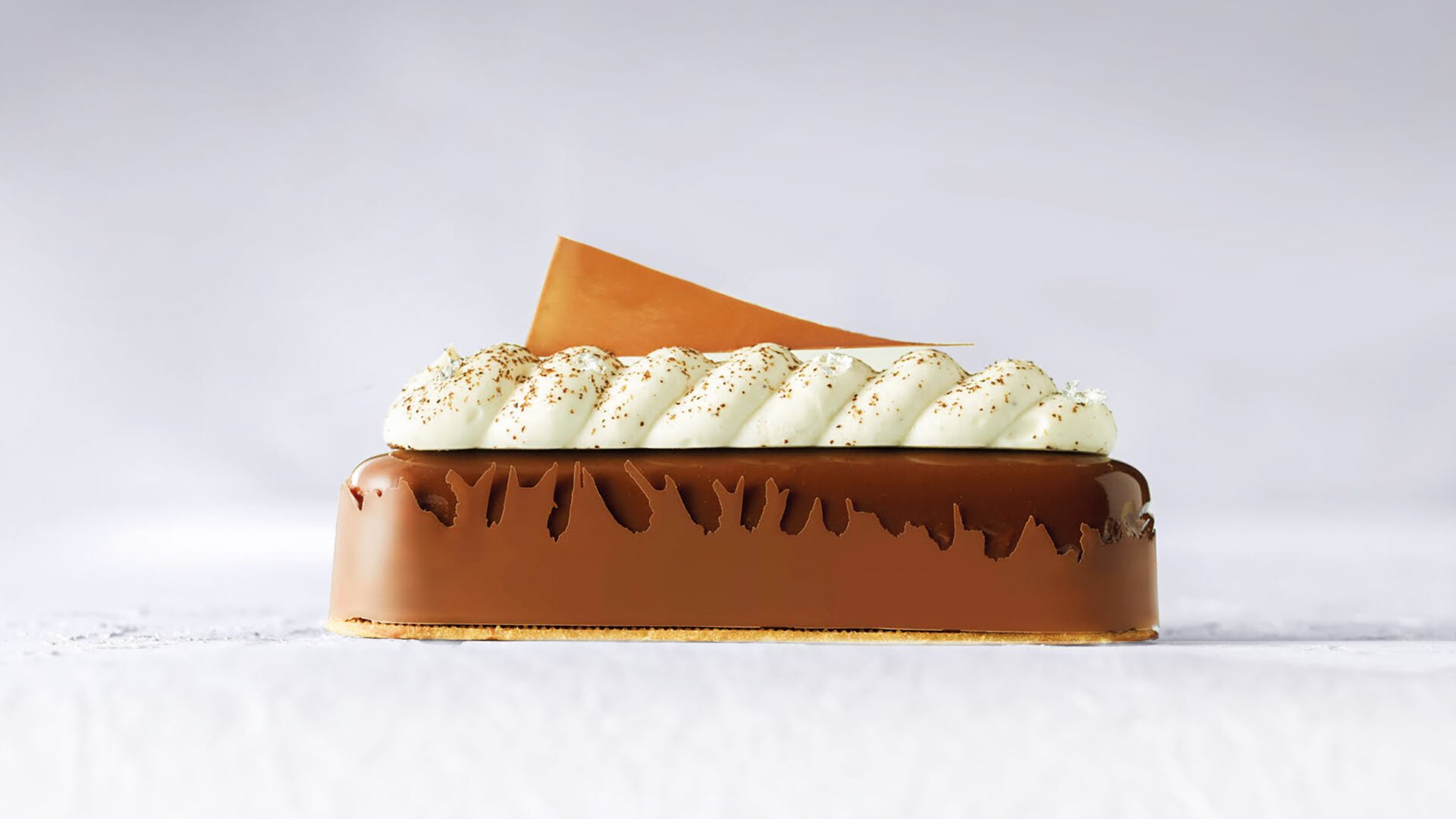 Recipe by Johanna le Pape
I. COMPOSITION
Coffee shortcrust
Vanilla Pain de Gênes
Coffee syrup
Crunchy almond chocolate
Coffee and vanilla crémeux
Tahitian vanilla ganache
Chocolate glaze
Milk chocolate decoration
II. COFEE SHORTCRUST (1 SHEET 40-60)
85 g Butter
45 g Icing sugar
6 g Coffee beans
28 g Almond powder
25 g Egg yolk
2 g Sea salt
½ pc Vanilla bean
60 g Corn flour
40 g Rice flour
20 g Chestnut flour
PROCESS
Mix the butter with the icing sugar.
Blend the coffee beans and add it to the rest of the ingredients.
Stir until a homogeneous texture.
Lay at 3 mm.
III. VANILLA PAIN DE GENES (40/60)
577 g Almond paste
300 g Eggs
38,5 g Rice flour
70 g Corn starch
49 g Butter
100 g Grapeseed oil
10 pc Vanilla bean
PROCESS
Mix the almond paste with the eggs.
Add the rice flour, the corn flour, the melted butter, the grapeseed oil and the vanilla.
Mix and spread into a Flexipan mould of 1 cm high.
Bake at 175°C for 15 min.
IV. COFFEE SYRUP
200 g Water
30 g Sugar
10 g Coffee powder
PROCESS
Heat the water and sugar.
Bring to a boil and add the coffee powder.
Use at 70°C.
V. CHOCOLATE AND ALMOND CRUNCHY (40/60)
200 g Crushed almond
200 g Almond praliné
60 g Argan oil
PROCESS
Roast the crushed almond at 170°C for 12 min.
Melt the chocolate and pour over the almond praliné.
Add the argan oil and then the crushed almond.
VI. VANILLA AND COFFEE CREMEUX
200 g Cream 35%
200 g Milk
140 g Egg yolk
10 g Coffee powder
55 g Gelatine mass
PROCESS
In a saucepan, cook the whipping cream with the milk and the egg yolk mixed with the sugar.
Cook as a "crème anglaise".
Pour over the coffee powder and the gelatine mass.
And then, make an emulsion with milk chocolate.
VII. VANILLA GANACHE
150 g Cream 35%
2 pc Vanilla bean
30 g Gelatine mass
350 g Cream 35%
PROCESS
Heat the 150 g of whipping cream with the vanilla seeds.
Add the gelatine mass and pour over the white chocolate.
Add the rest of whipping cream, mix and strain.
Keep in the refrigerator for 24 hours.
With the whip of an electric mixer, slowly beat the ganache to reach a Chantilly consistency.
VIII. CHOCOLATE GLAZE
150 g Water
300 g Sugar
300 g Glucose syrup
200 g Condensed milk
150 g Gelatine mass
PROCESS
In a saucepan, cook the water, the sugar, the glucose syrup to 103°C.
Pour over the condensed milk and gelatine mass.
Mix and pour over the chocolate.
Mix and set in the fridge overnight.
Use the glaze at around 38°C.