Jack o'cheesecake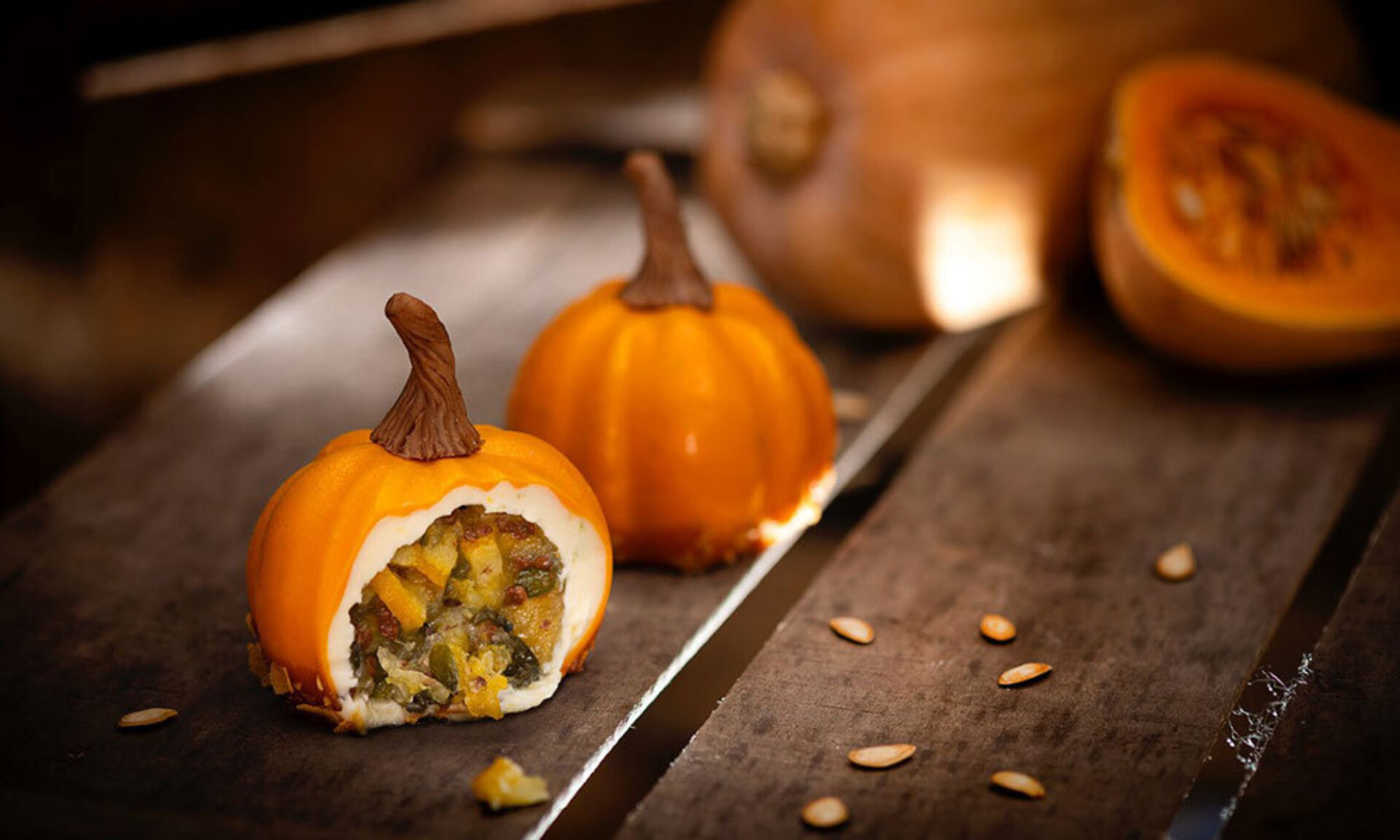 Recipe by François Galtier
I. COMPOSITION
Orange Inclusion
Lime Cheescake Whipped Ganache
Chocolate Shell
Golden Glaze
II. POACHED ORANGE
250 g orange peels
500 g water
500 g sugar
PROCESS
Put the orange peels in a pan with a lot of cold water and boil.
Drain the orange peels and repeat two more times.
In another pan, boil the water with half of the sugar and add the
orange peels to cook, without exceeding 70°C.
Slowly add the rest of the sugar to concentrate the syrup.
Stop cooking when the orange rinds are tender. Store in an airtight
box with the syrup.
III. ORANGE INCLUSION
110 g water
165 g orange juice
27 g sugar
4 g agar agar
110 g poached orange
25 g pumpkin seed
35 g lemon segment
PROCESS
Heat the water and orange juice to 40°C.
Mix the sugar and agar agar, add to the mix and boil
Leave the mix to cool in the fridge.
Blend the jelly until soft, then mix in the poached orange, finely cut.
Next, add the pumpkin seed, Belgian dark chocolate Microdrops and the lemon segment.
Fill 4,5 cm spherical silicon moulds with the mixture and freeze them.
IV. LIME CHEESECAKE WHIPPED GANACHE
100 g fresh cream 35% fat
250 g fresh cream 35% fat
180 g cream cheese
20 g lime juice
2 g lime zest
1 pc vanilla bean
40 g sugar
PROCESS
Heat the first part of fresh cream and mix with the chocolate to make a ganache.
Pour the second part of fresh cream into the mixture.
Gradually combine the two mixtures.
Leave to cool in the fridge for few hours.
V. CHOCOLATE SHELL
200 g Deodorized Cocoa Butter
500 g Obsession 30 Belgian white chocolate
SQ Red Liposoluble Food Colouring
SQ Yellow Liposoluble Food Colouring
PROCESS
Warm up the Deodorized Cocoa Butter and mix with the chocolate to obtain a 50°C mix.
Add the colourings and blend.
Leave to cool down to 35°C to use.
VI. GOLDEN GLAZE
100 g fresh cream 35% fat
72 g sugar
410 g glucose sugar
180 g gelatin mass (1/5)
700 g neutral mirror glaze
SQ gold powder
PROCESS
Boil the cream with the sugar and glucose. Pour on the gelatin to melt.
Add the chocolate and mix well to melt all the dots.
Add the mirror glaze at the end, blend the glaze, add gold powder and
use at 35/40°.
Use Crispy Crunchies to decorate the glaze.
VII. ASSEMBLING
Whip the lime cheesecake whipped ganache until it has the same texture
as a Chantilly cream.
Pour some into blossom silicon moulds, then fill the moulds with the frozen
orange inclusion.
Freeze them. Glaze with the chocolate shell and leave to crystalize.
Glaze the bottom (2 cm) with the golden glaze and sprinkle some Crispy Crunchies on it.
Decorate with modelling chocolate.