Santa-Clair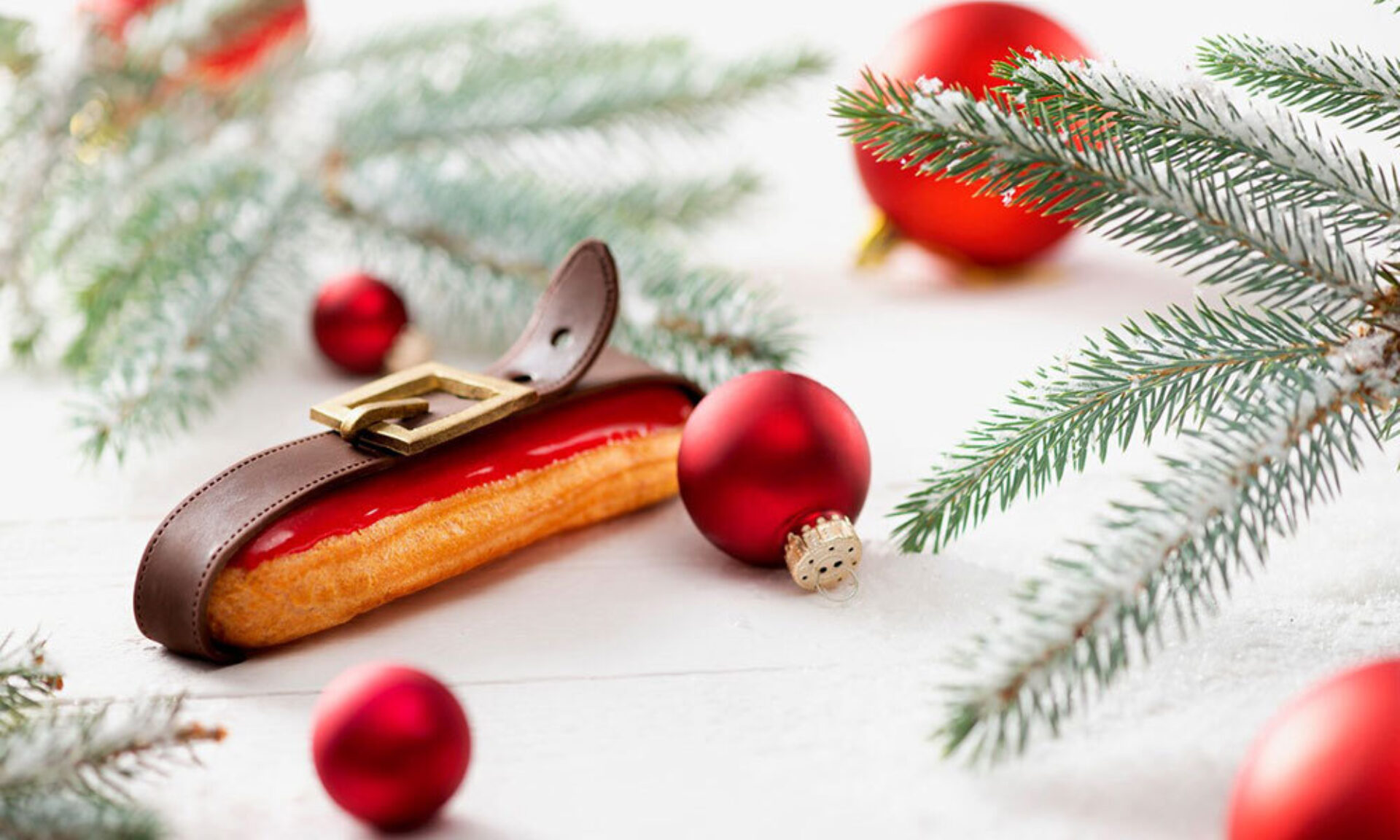 Recipe by François Galtier
I. COMPOSITION
Éclair Dough
Spicey Orange Cream
Red Gloss Glaze
II. ÉCLAIR DOUGH
125 g water
125 g whole milk
125 g butter
0.5 g salt
2.5 g sugar
125 g flour
250 g egg
PROCESS
Boil the water, milk, butter, salt and sugar.
Add this mix and the flour to the mixer until the temperature falls to 55℃.
Add the eggs and mix.
Pipe the eclairs onto a tray with a fine star tip nozzle and place in an oven pre-heated to 190℃, then reduce the temperature to 150℃ to bake.
Leave for about 40 to 50 min.
III. SPICY ORANGE CREAMY
200 g mandarin juice
100 g orange juice
50 g gelatin mass (1/5)
170 g butter
8 g orange zest
8 g five spices
150 g lemon juice
PROCESS
Heat the juices and gelatin mass.
Pour onto the chocolates and mix.
Add the butter and blend, then add the orange zest, the five spices and finally, the lemon juice, and blend again.
IV. RED GLOSS GLAZE
100 g fresh cream 35% fat
72 g sugar
410 g glucose syrup
180 g gelatin mass (1/5)
225 g Obsession 30 Belgian white chocolate
700 g neutral mirror glaze
SQ silver powder
SQ red food colouring
PROCESS
Boil the cream, together with the sugar and glucose.
Pour onto the gelatin to melt it, then add the chocolate, mixing well to melt all of the dots.
Last, add the mirror glaze and the colouring and use at 35/40℃.
V. MONTAGE
Fill the éclairs with the spicy orange cream.
Glaze them with the red gloss glaze.
Decorate with a Santa's belt made with modelling chocolate.