Cork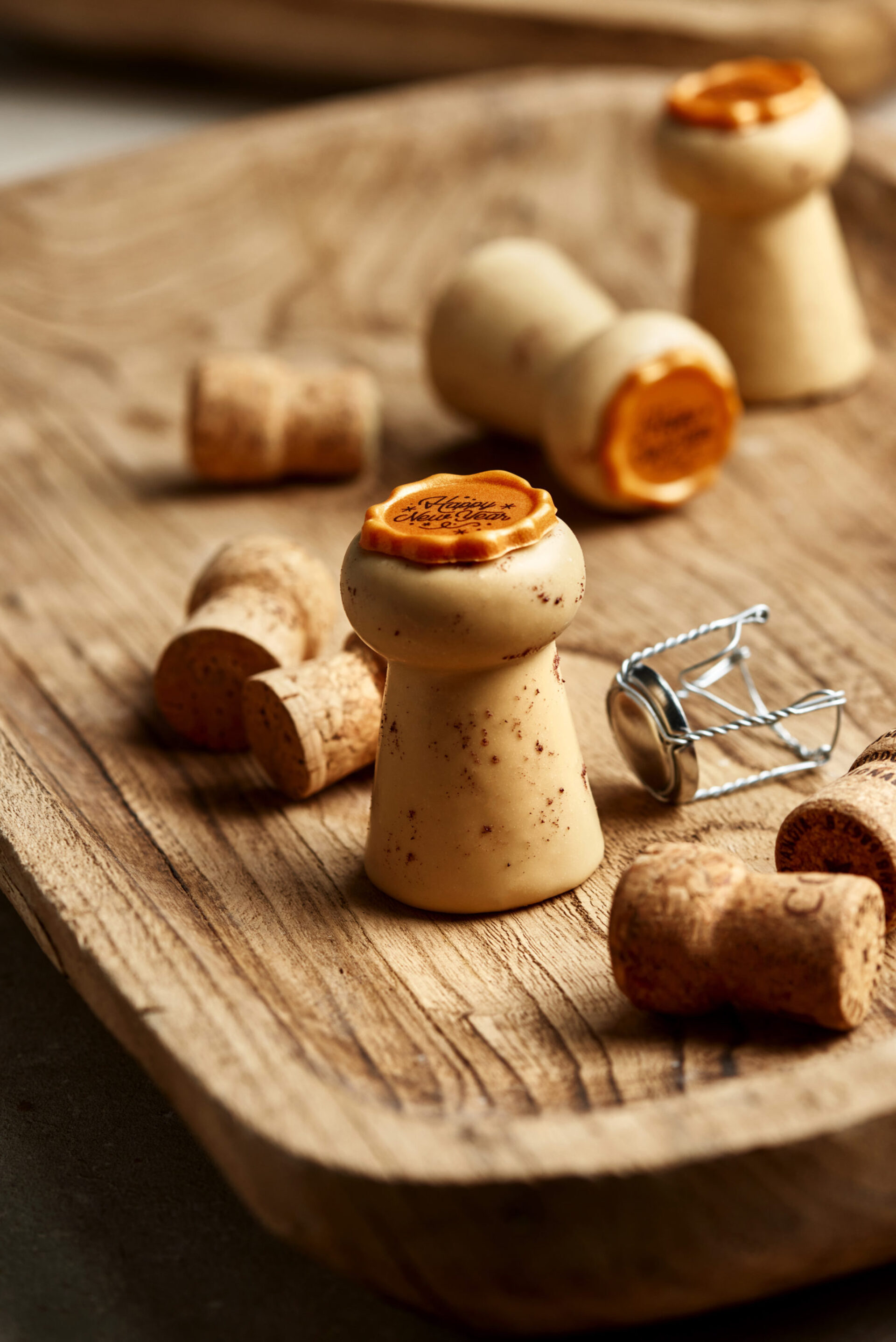 I. COMPOSITION
40 PIECES
Sesame biscuit
Sesame praline cream
Milk chocolate mousse
Milky chocolate coating
II. SESAME BISCUIT
160 g Eggs
80 g Blond cassonade
40 g Honey
32 g Butter
60 g Pure sesame paste
1.5 g Orange zests
130 g Flour T45
6 g Baking powder
PROCESS
Lightly whip eggs, blond cassonade and honey.
Add at 40°C melted butter with chocolate, mixed with sesame paste and orange zests.
At the end incorporate sifted flour and baking powder.
Pipe 12 gr in SMALL BABA mold from Silikomart, then bake at 170°C during 12 min, close damper.
Cool down and unmold.
III. SESAME PRALINÉ CREAM
65 g Full fat milk
20 g Brown sugar
50 g Hazelnut praliné 65%
100 g Pure sesame paste
1.2 g Sea salt
25 g Roasted sesame seeds
PROCESS
Warm the milk with the brown sugar to 60°C, pour over the hazelnut praliné, pure sesame paste and sea salt.
Blend to obtain a good emulsion and add inside the roasted sesame seeds.
Fill 6 gr in MICRO STONE Silikomart mold number 5 then freeze.
IV. MILK CHOCOLATE MOUSSE
157 g Full fat milk
51 g Gelatin masse (1/5)
375 g Inspiration 32 Belgian milk couverture chocolate
750 g Whipped cream 35%
PROCESS
Warm the milk to 80°C, add the gelatin mass and pour onto the chocolate, then make a ganache.
At 35°C, fold in the whipped cream 35%.
Pipe 14 gr in the GLOBE 26 Silikomart mold and put inside the sesame praline cream insert and freeze.
Pipe 18 gr in the MEDIUM BABA Silikomart mold and push inside the sesame biscuit, then freeze.
Reserve the left over of mousse.
V. MILKY CHOCOLATE COATING
PROCESS
Melt cocoa butter and mix with chocolate.
Use at 35-40°C.
ASSEMBLY
Unmold the two part from MEDIUM BABA and GLOBE 26 and assemble together with a little amount of mousse from the smaller diameter side of the cone to the bottom part of the globe. Using a stick, dip in the coating at the correct temperature. Scrap off the under excess on a grid. With a bit of cocoa powder and melted cocoa butter mixed together, tap gently with a brush to give some relief to the cork. Decorate with a " Happy New Year" Leman stamp on top.